Bagram is a Military Airbase near Kabul in present day Afghanistan. Once upon a time, it was a major city on the Silk route that connected North India to China. Established by Alexander, Kapisa was the Summer capital of the Kushans in 1st Century. In 1937, in what could have possibly been the Palace store room, Archaeologists discovered the greatest and most diverse treasure excavated in Afghanistan. From 1978-2003, most of the items were in the collection of the Afghan National Museum in Kabul but were kept hidden during the period of unrest and war.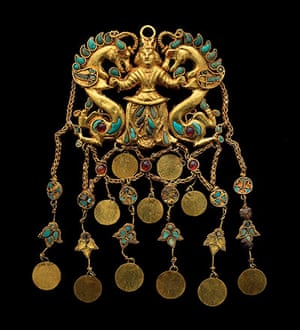 The collection has a very interesting mix of artefacts. The picture above is of a woman's headdress pendant, made of Gold and Turquoise. The picture below is a beaker depicting figures harvesting dates. There are Ivory backed chairs from India, Greek Glass from Alexandria and Syria and Glass Paintings as well. There are many hellenistic statues and silverware as well as images from the Greek Myths. Many of the goods were imported from the Roman empire, for example, a glass vessel with a Greco-Roman Gladiator. Such a diverse mix of articles point to the cosmopolitan nature of the Kushan empire and also to the fact that they were at the the junction of the land and sea routes of the East and the West. The items also pay testimony to the sophistication and high culture of the Kushan era, superior standards of artisanship as well as the extent of the trade routes in those times. Most of these items belong to the 1st-2nd Century AD. It is nothing short of a miracle that they have survived to this date.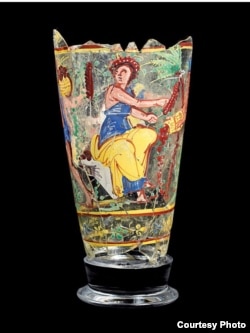 Being at a strategic crossroad of the trade route meant that the Kushan Empire became immensely rich. They controlled the land route from Kashgar in the East to the commercial centres of Sogdiana and then Merv. The second option was the combined land and sea route from Kashgar via Bagram and Purushpura (Peshawar) or via Gilgit and Taxila to the north-western Indian plains. Travelling South West from there to the seaport of Barbarikon (near today's Karachi, Pakistan) or Barygaza (today's Bharuch in Gujarat, India).
The Bagram treasure embodies the spirit of this cosmopolitan empire. The most recent datable object was a coin of Vausdeva I (191-229-30 AD). It is also possible that this date coincides with the closing of these chambers making a case for the conquest and destruction of Bagram by Shapur I, second king of the Sassanian empire in 241 AD.
Reference:
The History of Central Asia , Christoph Baumer , I.B Tauris and Co. Ltd, 2014
The Story of India, Michael Woods, Random House e-books